Offer A Helping Hand To Support Ms Sharvari Badade's Treatment | ketto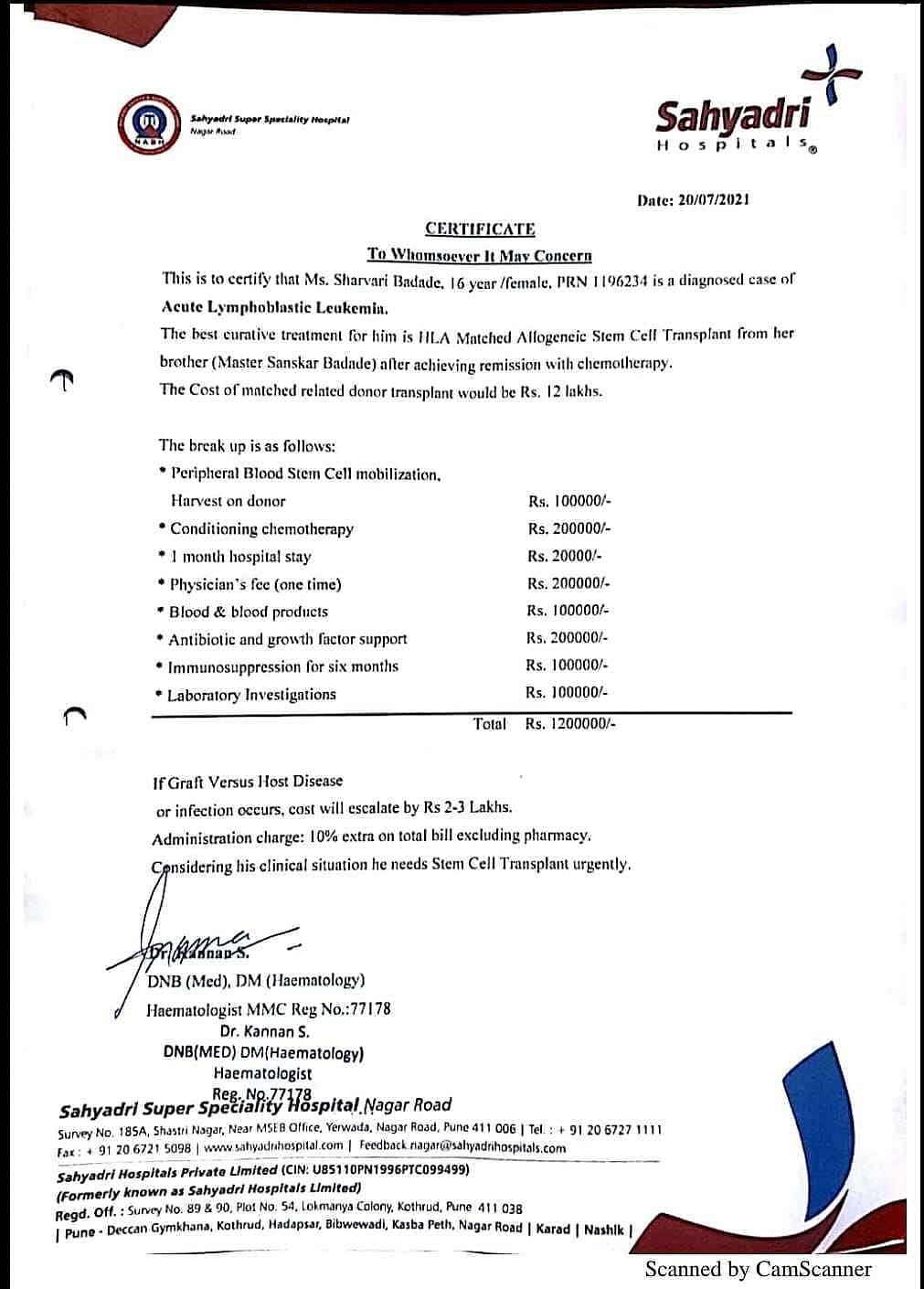 About the Fundraiser DONATE
I am so heartbroken to see my daughter cry. I have never seen her suffer in so much pain before. It hurts me to know I can do absolutely nothing to relieve her from this. I can only pray it ends soon." Says Jyoti, the Mother.
Sharvari Badade is just 15 years old and is diagnosed with Acute Lymphoblastic Leukemia, a type of cancer of the blood and bone marrow. Acute Lymphoblastic leukemia (ALL) is also called acute lymphoblastic leukemia which means that the leukemia can progress quickly, and if not treated, would probably be fatal within a few months and it develops from early (immature) forms of lymphocytes, a type of white blood cell which can be very painful in some patients.
Sharvari grew up with her parents in Pune, Maharashtra. She was a very bright and ambitious student in her school. She won many prizes in competitions like rangoli art, drawing and so on. Sharvari was creatively inclined before her problems began.
When Sharvari complained about entire body paining, her parents brushed it off by saying, "You're just exhausted from your outdoor activities". Little did they know that was the start to a very painful journey. Sharvari's body began hurting more and swelling increased too. This was when her parents consulted the doctor and got her admitted to a hospital immediately.
"Sharvari sits all day as her legs hurt. I see my daughter suffer sitting by the window, waiting for her friends to come home. Sharvari's friends do not come as often due to the lockdown and the fear of coronavirus. While she has us around, she needs to feel her age - by being around her friends." - Mangesh, the father.
Her brother is a match, but they can't pay for the transplant
Sharvari's younger brother is a match for the bone marrow transplant and is ready to save his sister's life. But the transplant will cost them lakhs of rupees which this family cannot afford.
Sharvari underwent surgery recently but still requires radiation and other treatment to be 100% cured. Jyoti and Mangesh, her parents, have spent all they could for their daughter's treatment. However, they have exhausted all their savings. She still has a long way to go but with no financial backup her treatment is at a standstill. The total cost of her treatment is an astonishing 12,00,000.
The Coronavirus situation has added onto their distress. Her parents have trouble coordinating with the hospital to meet their daughter every day. Even so, they try their best to support their daughter by whatever means they can. They want to stay by her side as much as they can.
"I am a farmer and my husband is a daily wage driver. We barely make it to the end of every month. Affording cancer treatment was way beyond our means, so we mortgaged our farming land and took some loans to keep our child's treatment going. But this time, we have absolutely no source left to continue the treatment. Time is running out of my hands. I just don't know what to do anymore." - says Jyothi
"If I could do anything to help my daughter I would. She has been the most kind and helpful child anyone could have. She is really a blessing from God. And so, I know his grace will shine on her and help her overcome this hurdle. He will send somebody to help us." says Jyoti, the mother.
This helpless family asks for your support to save their daughter who is critical and needs treatment as soon as possible.
All donations made to Human Rights Council of India (HRCI) are exempt under section 80G of the Income Tax Act.
Human Rights Council of India (HRCI), a National Registered Charity is raising funds for Sharvari Mangesh Badade.
Human Rights Council of India (HRCI) works in the areas of Women Empowerment, Child Rights, Social Awareness Programs, Protection from Domestic Violence, Health Initiatives, Personality Development Programs, Education, Medical Support, Natural Calamity Relief and other impact driven programs.